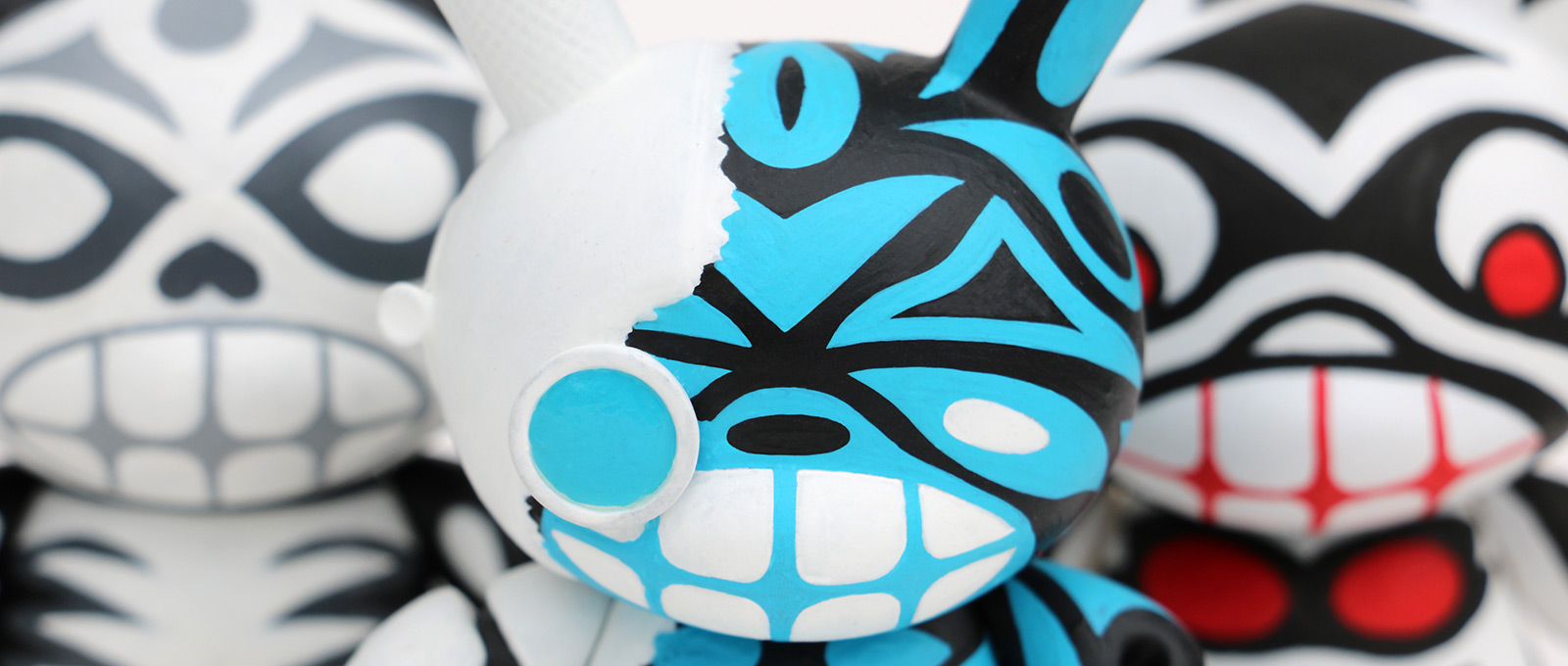 If you're a glutton for punishment and still follow my blog, I salute you. My last post (which was about a year ago) discussed a little bit as to why there isn't much going on here on my site anymore, but it didn't really get into it too much beyond it being easier to post to social media outlets. Well to elaborate a bit (but still not go into it too much), I've had to deal with a lot of "real life" stuff over the last two years. I've found that when someone says something like that, it's easy to assume it's all bad stuff. In my case it was actually good stuff, but it didn't always feel like it because of the amount of time and energy it required. And while I love the art toy scene and painting toys, it was the one variable that could be put on hold without serious detriment.
That being said, late last year things started to clear up a bit and allow me a little bit of time to get back to things, which was good. Since time was still an issue, I really started to evaluate what was important to me. During my hiatus I found some new hobbies, as well as "re-found" some old ones that really gave me a spark. In my mind I still wanted to paint toys, but again the newness of other endeavors was eating up my precious few hours each day. Luckily some of these hobbies are sort of related to toys, so it kept my mind in the right place. But there was something that still kept me from picking up a toy again…
When I thought about it, I realized something about my toy painting. I enjoy about eighty percent of the process, but really despise the other twenty. Of that twenty, five percent of that is the initial prep work that goes into preparing a toy to be painted, and then the last fifteen percent is usually cleaning up all the line work and clear coating the toy- bleh. I'll admit that makes me sound pretty lazy- only wanting to do the fun stuff, but it is what it is. So to ease myself back in, I jumped right into the eighty percent. I had a bunch of prepped toys in a box, so I just began sketching out my designs on them, and then blocking in the main areas of paint. When I got to that last bit, I'd put the toys down and they'd sit and I'd go do something else. It worked- for a while…
I'm not exactly sure when it just clicked again, but earlier this year I picked up an "eighty-percent" toy and just sat and painted for about three hours straight until I finished it. It felt really good. That experience seems to have gotten me over the hump and back into it. Things are still slow as "real life" stuff has been randomly popping up a lot, but I find I have been gravitating back to painting before other things, and I have a renewed interest in some toy goals that have lingered for the last 5 years now.
With that said, besides rebooting my toy painting, I feel like my website has gotten very stale since it's looked the same for a long time now. I also don't even know if my webstore is working- I had to do some custom tweaking to get it to work how I wanted, and there have been so many auto updates to it that it very well could be a broken mess- yeah I know… So I've decided to put some time into getting my website back to it's former glory, as well as giving it a new look. I don't have many visitors, so I'm just going ahead and working on the live site. I apologize in advance if things look weird or if you see weird placeholders and things. My goal is to get it up and running by the end of this month (might be a little ambitious), send out a very belated newsletter, and throw some new customs in my webstore.
If you've made it this far, thanks for sticking around!