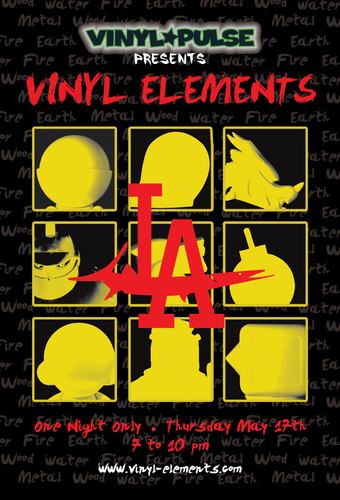 Vinyl Pulse's big custom vinyl show, VInyl Elements is coming May 17th, 2007. I've seen some sneak peaks of some of the pieces, and by the looks of the artist list this should be a really good show. Here's the details from the Vinyl Pulse website:
Vinyl Elements brings the excitement back on Thursday May 17th @ Barracuda from 7 to 10 PM. The elements the ancient Chinese believed to make up the universe Metal, Wood, Water, Fire and Earth form the show's theme. This classic theme will be interpreted by a select international group of fifty top-flight artists including David Horvath, Frank Kozik, Nathan Cabrera (for SURU), Tado, Tim Tsui, tokidoki, Touma and more.
Rather than working on one identical platform, this stellar group will present their wide range of styles and techniques across twelve different vinyl figures. Vinyl Elements, a must-not-miss event, delivers the essential elements to showcase the very best in custom toy art, piece by piece from the first to the last.
Sounds impressive, huh? With that, I really need to finish up my piece. I'm customizing a 9″ Jamungo BUD- I'll try to get a couple of sneak peaks up soon…